Vielen Dank allen Besuchern, die beim Herbstkonzert dabei waren. Uns hat es Spaß gemacht und wir hoffen, auch allen Zuhörern.
Wir wollten gestern beim Konzert gerne die Meinung unserer Zuhörer wissen. Die Resonanz darauf war unerwartet hoch und so sind uns die Zetteln ausgegangen.
Wer gestern keinen Zettel abbekommen hat, der kann uns seine Meinung nun auch Online mitteilen unter Meinungsumfrage. Selbstverständlich gilt die Kartenverlosung auch für die Online Teilnehmer.
Mitspieler gesucht
Für das nächste Programm, mit dem wir im März 2020 im Theater am Kurpark Oberlaa auftreten werden, suchen wir noch Mitspieler. Ob Geige, Bratsche, Kontrabass oder Fagott, Oboe und Horn , wir haben noch ein Plätzchen frei. Wer mitspielen möchte, einfach nachlesen unter http://www.concentus21.at/mitspielen/ und unseren musikalischen Leiter kontaktieren 😉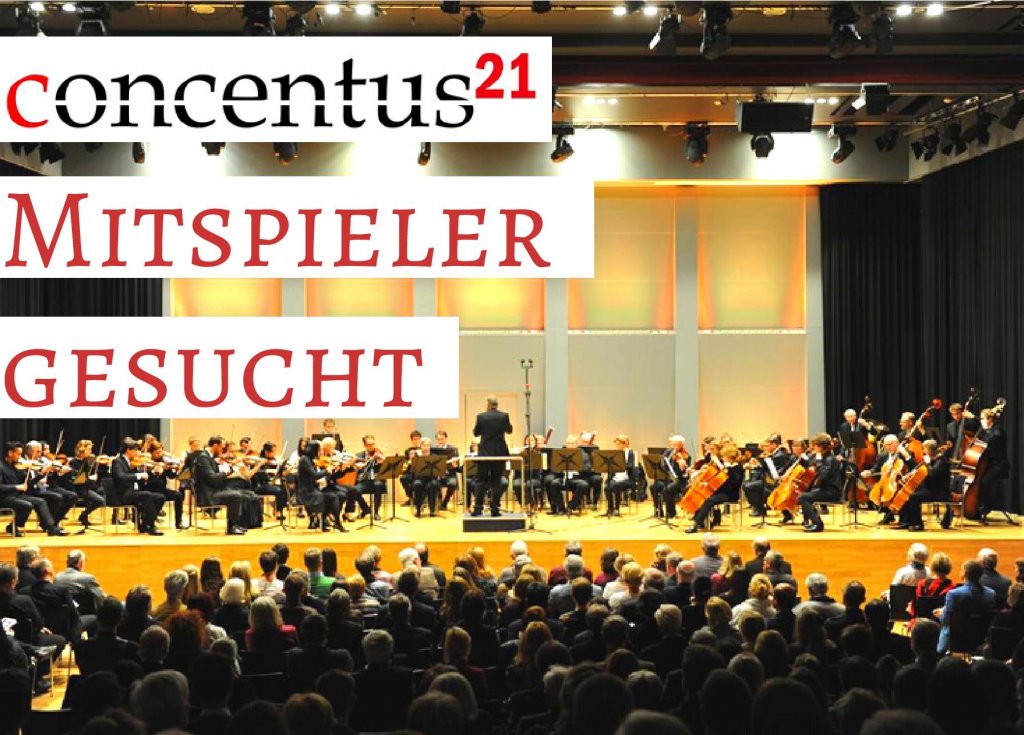 Concentus21 - Community Orchestra in Vienna, the City of Music
Welcome to the world of Concentus21! On this website you'll find an overview on our concerts. You're interested to join us as musician? Take a look at the information on the page and use the contact form to get in touch with our artistic director and conductor Herbert Krenn. (Become a member...)
The orchestra Concentus21 established in 2004 is a traditional community orchestra. Members share their love of music and motivation to play in concert regularly. The repertoire comprises music from the classic and romantic eras, as well as some Viennese music. We emphasize on bringing the lesser known works to the stage they deserve. Working with renowned soloists or playing in opera productions provide great experiences for ambitious amateurs. Our artistic director and conductor Herbert Krenn is rooted in the Viennese tradition of music making which he very successfully passes on to the members of the orchestra.
Concert announcement
Frühlingskonzert 22.03.2020 – Theatersaal Oberlaa
Solistin: Yolotzin Cruz-Cedillo
Vorverkaufstart Januar 2020
Further concerts planned:
Sommerkonzert 19. und 21.06.2020 – Krypta der Canisiuskirche
Solisten: Ajda und Ricardo Azocar

Herbstkonzert 21.11.2020 – Neuer Burgsaal Perchtoldsdorf
---
Concert review

Schon Wochen im voraus war das diesjährige Herbstkonzert des Concentus21 ausverkauft. Demzufolge
15 Jahre Concentus21 – ein festlicher Anlass! Unter diesem Motto hatte das Orchester zum gro&sz
Das Sonntagskonzert in Oberlaa als erstes Konzert 2019 brachte nochmals das Programm "Musik in und au